Why is my blog called Inhuman Swill? Because you can unscramble the pieces to make William Shunn.
Tweet
Oreo packet,
rip'd open and crush'd on the
subway floor. Tragic.
—for the kid in all of us
Full entry
Tweet
Though it is widely known among our circle of friends that Laura and I were married on television, few are they who have actually seen the episode of the obscure series in question.
Yes, we appeared in an episode of the Travel Channel series Two for Las Vegas which aired early in 2002. Yes, the episode ran several times that year. No, you can't see it now because Laura has always vetoed my requests for permission to post the episode to YouTube.
Except that today, on the occasion of our fifteenth wedding anniversary, egged on by numerous voices on Facebook, Laura relented. So now you can watch this lost classic of the small screen. You'll laugh, you'll cry, it'll become a part of you.
But hurry because she might change her mind any moment now.
Full entry
Tweet
Fifteen years ago today
, I somehow had the remarkable good fortune of marrying the smartest, most adventurous, funniest, most beautiful woman in the world. (Television could not have designed a better wedding. Literally. The wedding was on television.)
Today, I have the remarkable good fortune of still feeling that way. Thank you, Laura, for fifteen-plus years of adventure, challenge, joy, surprise, growth, puppy snorgles, forgetting important dates, and never being bored.
I love you, Laura.
(I think this is the part where Laura would want me to tell the NPR listening audience, "She could be a real bitch sometimes." Oh, wait, I was supposed to save that for your eulogy? My bad.)
Full entry
Tweet

Help support one of the very best writing programs in the speculative fiction field!
The Clarion West Writers Workshop kicks off its summer session for 2016 in Seattle this week, bringing students from around the world together with accomplished professionals in the field for an intensive six-week workshop in science fiction and fantasy writing.
Clarion West (together with the original Clarion Workshop on which it was modeled) does important work in the field, giving new writers the technical and critical tools they need to succeed commercially and artistically. I know. I attended Clarion in 1985, and it's no exaggeration to say the experience changed my life.
But Clarion West can't do what it does without community support. How can you help? Every year the Clarion West Write-A-Thon runs concurrently with the workshop itself, encouraging participating writers to set and pursue their own summer writing agendas. My goal is a modest 1,000 words a week for the duration of the Write-A-Thon, which you can support by sponsoring me here:
Of course, there are many other writers participating besides me. If you'd prefer to sponsor one of them, instead of or in addition to me, please feel free! Or you can participate directly by signing up for the Write-A-Thon and finding your own sponsors.
As an added bonus, if you're in or near New York City, I will be leading a weekly Write-A-Thon meetup at New York City Bagel & Coffee House in Astoria, Queens. Click here for more details.
But however you choose to help Clarion West, please do it now! Every little bit helps.
Full entry
Tweet
Be it hereby known to all peoples, species, and intelligences that upon the morrow I do ascend to my rightful seat as monarch and ruler of Ireland's
Sensible Castle
, and do take upon me the moniker of King William the Irritable.
Be it also known that my coronation shall take place at exactly 10:57 am EDT (9:57 am CDT), after which time I shall issue three royal decrees of utmost urgency and aptness, one per minute, decrees which my subjects-to-be disregard at their peril.
Be it further known that after three glorious minutes shall my work as monarch be complete, and at precisely 11:00 am EDT (10:00 am CDT) shall I humbly abdicate my throne, stepping aside to permit another to rule Sensible Castle in my stead.
Be it finally and forever known that all and sundry are encouraged to observe and bear witness to my deathless yet brief reign at whoisthekingrightnow.com, at which site shall my royal decrees be made known and propagated around the globe.
Full entry
Tweet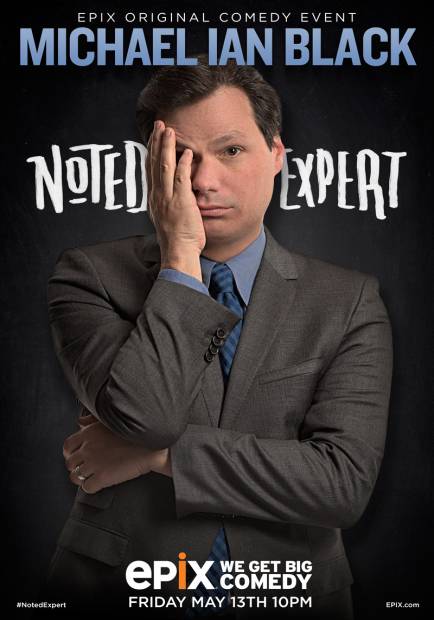 It was a magical moment. That's how Barry put it, and who am I to disagree?
Barry Goldblatt is my friend and literary agent. He also happens to be literary agent to actor/​comedian/​author Michael Ian Black, with whom you may be familiar. This past November, Barry took a small group of us—me, Laura, and Colleen AF Venable—to see the taping of Michael's new standup comedy special at John Jay College in Manhattan.
Now, this happened to be the very next day after my book release party for The Accidental Terrorist, so 1) I was still on a pretty big high, and 2) the comedy outing felt almost like a continuation of the party from the night before.
As the line of showgoers entered the auditorium, a woman we called the Sorting Hat directed each little group to the exact row where she wanted them to sit. "Are you big fans of Michael Ian Black?" she would ask, before sending the young and attractive college students to the front of the house and the rest of us to the anonymous back middle. She needed the audience to look good and enthusiastic on TV.
Full entry
Tweet
Rocket trip to Andromeda. Space constrains.
---
Inspired by an email from a director at my company, who said he would be working from home today instead of his construction-necessitated temporary office because "Space constrains."
Full entry
Tweet
Watching Tyler Glenn's video for his new solo single, "Trash," the anger is palpable and inescapable. But it also brims with pain and grief.
"Trash" exploded across the online Mormon world last week, causing the faithful to recoil and apostates to jump up and down in a fever. Glenn is the lead singer of Provo's Neon Trees. A lifelong member of the LDS Church, he made headlines two years ago by coming out as gay in the pages of Rolling Stone. He still believed, though—until six months ago, that is, when the church issued draconian new guidelines for the ecclesiastical treatment of children of same-sex couples.
Now comes "Trash," a video in which Tyler Glenn drinks liquor from the bottle, spits on a defaced portrait of Joseph Smith, enacts all four of the secret handshakes from the temple endowment ceremony, draws a red X on his face, and ultimately crumples amidst a blizzard of printed pages possibly meant to represent Mormon scripture.
Full entry
Tweet
Greetings from San Francisco! I've been meaning to blog about this crazy week for a while now, but this crazy week keeps getting in the way.
I arrived here yesterday afternoon, having flown from Baltimore after visiting a book club in York, PA, that was discussing The Accidental Terrorist. I'm telling you, you haven't lived until you've faced a roomful of strong professional women who all want to tell you what they think about your book. Fortunately, the comments and questions were uniformly thoughtful and perceptive. I wouldn't trade that experience for the world.
---
Sunday, April 24, Mill Valley, CA
But the week is far from over! Tonight I'm delighted to be joining the incredible Bengt Washburn and his Beehive State Boatrockers for an evening of standup comedy, storytelling, and loud laughter:
Sunday, April 24, 7:30 pm
Caffeinated Confessions of Mormon Comics
Throckmorton Theatre
142 Throckmorton Ave.
Mill Valley, CA 94941
Tickets: $21 to $36
Bengt will headline the show, I will tell amusing anecdotes from the mission field, and we'll hear from comics spanning the spectrum of views on Mormonism: Abi Harrison, Christian Pieper, Spence Roper. It's going to be a truly telestial evening. I hope to see you there.
---
Wednesday, April 27, Ridgewood, Queens, NY
By Wednesday I'll be back home in Queens, and I'm honored to be kicking off the debut of the Wednesday Night Reading Series at the monk, a fabulous Belgian beer bar in Ridgewood. Joining me is poet extraordinaire (and science fiction editor) Emily Alta Hockaday.
Wednesday, April 27, 8:00 pm
Wednesday Night Reading Series
the monk
68-67 Fresh Pond Rd.
Ridgewood, NY 11385
Admission: free
the monk is an easy walk from the Fresh Pond Road stop on the M line. Join us, expand your beer palate, and take home a new reading list!
---
Thursday, April 28, Forest Hills, Queens, NY
Last but not least, Line Break—the eclectic live literary magazine that I host at Q.E.D. in Astoria—has been given its own evening-long stage at the Queens Literary Crawl in Forest Hills!
The Queens Literary Crawl (which benefits the Queens Book Festival) is an amazing assemblage of more than a hundred literary luminaries all reading on various stages throughout Forest Hills on one magical night. One $9.99 ticket gets you access to it all, which includes our special Line Break stage at Aged Restaurant.
Don't miss the amazing lineup of writers we've assembled, including Jacob Appel, Marleen S. Barr, Carey Bernstein, Jeremy Blutstein, Malcolm Chang, Keith R.A. DeCandido, Alex DiFrancesco, Nancy Hightower, Robert J. Howe, Rajan Khanna, Barbara Krasnoff, Ilana C. Myer, Richard Taylor Pearson, and Sarah Riccio! (And of course I'll be there too, as both host and reader.)
Thursday, April 28, 7:00-10:30 p.m.
Line Break Reading Series @ Queens Literary Crawl
Aged Restaurant
107-02 70th Road
Forest Hills, Queens, NY 11375
Tickets: $9.99 ($20 at the door)
Aged Restaurant, like all the Queens Literary Crawl venues, is near the Forest Hills/71st Ave stop on the E/F/M/R subway lines. You have no excuse for not joining us!
---
Whew. That's it for my crazy week! Or is it? Stay tuned.
Full entry